The veterinary industry is always introducing new ideas and concepts to improve the level of treatment given to patients. Out of the latest advancements and technologies, one stands out from the rest. Veterinarians have recently started raising awareness about the use of HBOT at their clinics. This revolutionary idea is seen to have many benefits, not least of which is that veterinarians will expand their referral base by offering HBOT.
Interested in offering hyperbaric oxygen treatment at your veterinarian clinic?
Call: 850-510-2781
Sechrist Veterinary Health is at the forefront of raising awareness of the use of hyperbaric oxygen therapy for traumatic injury or wound care in practices around the country. We are one of the leading manufacturers of hyperbaric oxygen chambers, specifically designed for vets and veterinary applications. We've recently set up a Clinical Board of Advisors for Veterinary Medical Affairs to help us spread the word about the benefits of using HBOT in this field.
Reduce Inflammation & Decrease The Potential For Hypoxia
The Clinical Advisory Board is made up of a series of unique minds with vast experience in the veterinary medical field. All four members are passionate about the use of HBOT for small animal veterinary practices. They view it as their duty to highlight the benefits of investing in these chambers, specifically relating to how it affects the animals being treated. One of the first items that were discussed and brought to the public's attention was the ability to use hyperbaric oxygen therapy for wound care or traumatic injuries.
Research into these two topics revealed that using HBOT could help reduce inflammation in small animals, as well as decrease the possibility of hypoxia forming. In fact, this research has been published in a journal by the board. This is the first title of many, and it is called the Sechrist Introduces HBOT Advocacy Team. It is available in the Journal of Small Animal Practice (JSAP) where it can be viewed and downloaded right away.
This is just the beginning of a long line of research as we strive to raise awareness for this revolutionary treatment option. By going out and finding case studies and conducting clinical research, more information can be put out there to help vets understand the benefits of using HBOT in their practices.
Speed Up The Natural Healing Process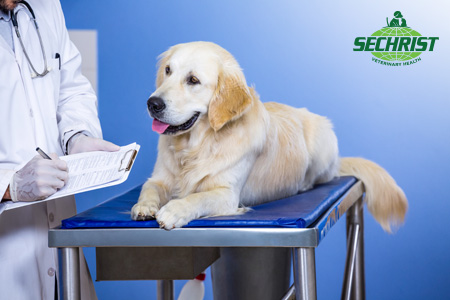 HBOT has been growing in popularity due to the way it works. This new treatment option for pets delivers pressurized oxygen into the animal's bloodstream while enclosed in a small chamber. The importance of getting enough oxygen into an animal's bloodstream cannot be understated – it is proven to help improve their overall health.
Furthermore, delivering oxygen to the blood stimulates the release and production of growth factors and stem cells. When lots of these are present in the body, it can rapidly increase the natural healing process, speeding it up considerably. This helps to fight off bacteria and heal wounds a lot faster than normal. Thus, animals are left in less pain and can enjoy speedier recoveries from a host of different injuries and health problems.
What Treatments Can HBOT Help With In Your Veterinary Practice?
If you were to offer HBOT at your veterinary clinic, what treatments could it help with? As mentioned above, the wound healing benefits mean this method is good at assisting with a variety of traumatic injuries. This can include but is not limited to, tooth abscesses, thermal burns, snake bites, septic peritonitis, severe degloving wounds, sciatic nerve lesions, and more.
Previous applications of HBOT usually came around when certain health issues were too difficult to treat. It was viewed as a last resort, mainly because so many practices did not have the facilities to provide it. As such, different treatment options were attempted, with referrals being made to special clinics to provide HBOT when necessary. Our mission is to get hyperbaric oxygen therapy chambers into as many veterinary clinics as possible. Therefore, treatments will be more readily available, meaning animals can be treated before it becomes a last resort.
Expand Your Referral Base By Offering HBOT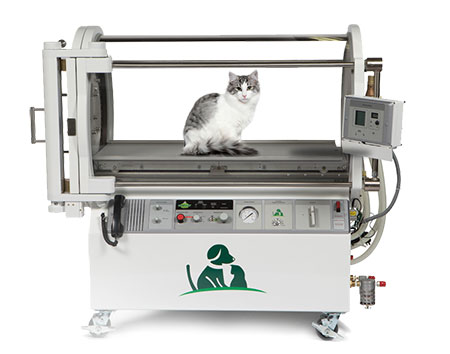 As a vet, offering the highest level of care to your animal patients is the number one priority. At the same time, you must accept that you are running a business. To continue offering the best care, you need to make enough money to provide the top resources and treatment methods. This all revolves around expanding your client base and getting more referrals back to your practice.
This is why an HBOT investment for veterinarians makes a lot of sense. The biggest problem with this technology is that hardly any clinics have it. So, finding someone to carry out the treatment becomes a struggle. We believe that veterinarians will expand their referral base by offering HBOT at their clinic. Not only can you draw in more patients right away, but other veterinary practices will start referring patients to you as you can treat them with your new hyperbaric oxygen therapy chamber.
What Can We Do For You?
Raising awareness for the uses and benefits of HBOT in veterinary practices is only part of what we do. We also manufacture these chambers and install them at clinics around the country. Currently, we offer two different chambers:
Both chambers have been carefully manufactured and specifically designed to meet the needs of veterinarians and their patients. They both deliver a unique dual-mode that allows for hyperbaric oxygen and enhanced oxygen at ambient pressure.
As specialists in this field, we can help you find an HBOT chamber that's perfectly sized for both your clients and practice. We've been doing this for over 40 years, so you can rest assured that the quality and practicality of our products are of the highest level. Regular maintenance and servicing are both provided, ensuring your chambers continue to work at peak functionality.
The question is, are you ready to expand your referral base and improve your treatments by using hyperbaric oxygen therapy? Help us continue to raise awareness for this incredible treatment and invest in your HBOT chamber today. Contact us for more details!