HBOT Chamber Options for Veterinarians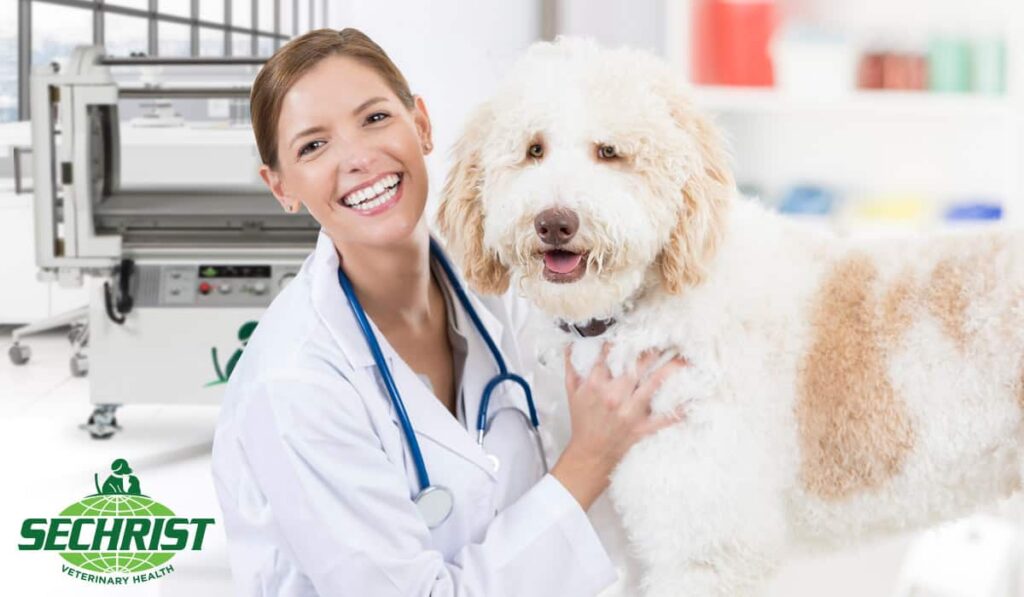 It has to be said that like a lot of industries, the veterinary industry has benefited from technology and engineering advancements in recent years. However, a particular form of therapy known as Hyperbaric Oxygen Therapy or otherwise referred to as HBOT, has seen a shift in veterinary practices.
Interested in offering hyperbaric oxygen treatment at your veterinarian clinic?
Call: 850-510-2781
HBOT is a type of treatment that involves pressurized oxygen that is delivered straight to the animal's bloodstream. This process uses a transparent acrylic cylinder that is filled with pressurized oxygen. This oxygen has increased atmospheric levels that ultimately help to improve the overall health of the animal in question. It's something that can prove very beneficial to many animals who receive this therapy, especially when it comes to the natural healing of the animal itself. Veterinarians are expanding their referral base by offering HBOT as part of their services to clients. It's something that certainly should be considered.
Through the release of growth factors and stem cells, it can be an effective way for the animal to fight off any bacteria.
HBOT has grown in popularity considerably but it wasn't always the case. For many veterinarians, it was something that was offered for conditions that were simply too difficult to treat and these included conditions like severe tissue trauma, canine pancreatitis and thermal burns to name but a few.
Investing In HBOT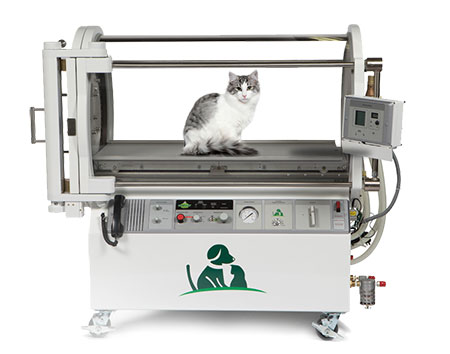 A HBOT investment for veterinarians could be exactly what you need for your veterinary practice. It's important to embrace the benefits that come from adapting your practice to modern-day technology and so therapy like this one could be an investment that helps you attract customers from various demographics, whether it be the more mature client to the younger generations who are growing up with higher technology expectations in all areas of their life.
Investing in the new equipment and training for veterinary hyperbaric oxygen treatment chambers could be something that boosts your customer base and brings more fulfillment and satisfaction to you and your clients. A veterinarian who is keen to try new methods and advanced technologies to help strengthen the health of animals is going to be a well-liked and popular one!
HBOT Chamber Options For Veterinarians
There are two different options when it comes to the HBOT chambers.You have the SV250 and the SV500. Both chambers work in the same way and are effective in their delivery of the therapy.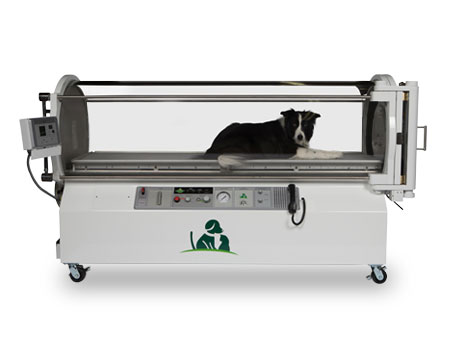 The SV250 hyperbaric animal chamber is a smaller one in comparison to the SV500, which is worth noting for the types of animals that you may be treating on a regular basis. It's been engineered to fit the standards needed for your animal patients and has been designed with the highest safety standards. The chamber features unique dual modes to help provide both Hyperbaric Oxygen Therapy and Enhanced Oxygen. There's a good amount of space provided to make the animal feel comfortable.
There's a standard electric scissor lift that can be used to load patients into the chamber and the one-handed door is easy to open and close when loading patients. With specialized ports and an intercom system, this chamber provides all the necessary elements needed for the treatment's success.
The SV500 comes with more space and so will be suited for larger companion animals like dogs.
The Benefits Of HBOT For Animals
There are many benefits that come with using HBOT on animals and it's something that may help sway your decision when it comes to investing in it.
Promotes Faster Healing
As mentioned above, HBOT can offer faster healing, which can be crucial for those animals who may often be more at risk of health problems, particularly older animals too. Being able to fight off infections more effectively can certainly help as well as increasing the growth of new tissue to reduce swelling and help with inflammation of wounds.
Helps With A Range Of Issues
The best thing about using this therapy treatment is that it can be used to treat a range of injuries and problems. Some of these can be helpful with snake bites, severe tissue trauma and vasculitis.
A single session of HBOT could be a real help in healing wounds quicker and providing pain relief for the animal being treated.
There Are Little To No Side Effects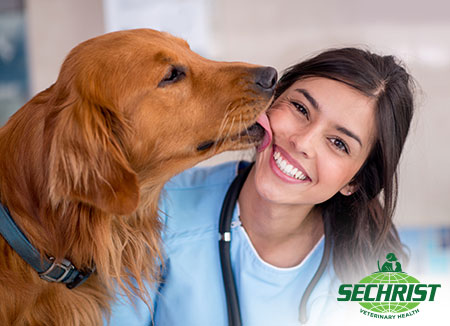 A benefit of HBOT is the little or lack of side effects when it comes to the animal's experience of the treatment. As it involves no seditiatives or medication, pressurized oxygen is a great way of providing results without any risks. The side effects are minimal if any and that can provide the animal with better comfort and experiences when having these sessions.
Suitable For All Pet Sizes
Despite the size of the animal, these chambers can be used for many different animals from horses to dogs. The treatment is mostly used on cats and dogs but it's something that could expand your client base considerably if you were to have more variety in the animals that you treat from day to day.
May Succeed Whether Other Treatments Fail
It can often be the case that some treatments or medicines given can do very little to help with the animal's problem. However, with HBOT, it's that treatment that could end up succeeding where others failed.
Get In Touch Today To Invest In HBOT
As specialists in pet oxygen chambers, we can supply you with either the SV250 or SV500 depending on your needs as a veterinarian. The chambers have been designed to help multiple patients at the same time where needed in order to keep up with the demands that often come with veterinary practices. Used currently in over 120 countries, it's certainly an investment that is becoming even more popular as time goes by.
If you're interested in taking advantage of what this chamber can do to help your clients with their animals, then get in touch today. Being able to expand your list of treatments and services as a practice can both be financially beneficial and rewarding for those patients that you see. Improving their quality of life at the end of the day is one of the best things that can be delivered by a veterinarian.