It is known that there are a large number of cases involving dog fights that can lead to a septic infection, non-healing dog attack wound, for the dog involved. Beyond the regular treatments of antibiotics and antiseptic medications, other alternative routes should be optional and provided at the veterinary surgery, to offer their expertise for other types of therapy. HBOT, otherwise known as Hyperbaric Oxygen Therapy has long been around in the medical field, for both humans and animals. It is a form of oxygen therapy that aids the healing process. If you offer Oxygen Therapy for Pets at your veterinary clinic, you can assist in several ailments. Adjunctive HBOT works to run in conjunction, as additional help and healing aids, which work to stimulate the body's cells and speed up healing times. It has been used in medicine for a while, effectively treating humans with many types of chronic ailments or medical issues. It is also used in animals.
Interested in offering hyperbaric oxygen treatment at your veterinarian clinic?
Call: 850-510-2781
The science behind HBOT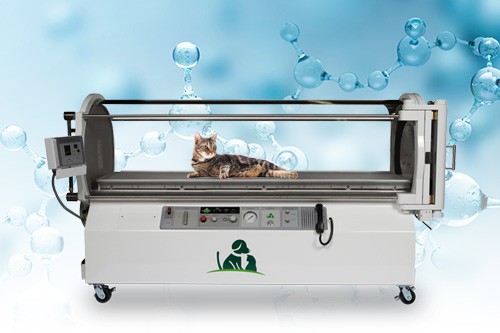 Since every cell in our body needs oxygen to survive, understandably, a supply of high-pressure oxygen has the power to help deal with a variety of problems. Many studies prove the usefulness of hyperbaric medicine and thus the list of conditions in which to treat pressure cell treatment is getting longer. Typical pressure cell treatment is performed at a pressure of between 2 and 3 atmospheres. Breathing air at such a pressure provides the dog with oxygen at a pressure of between 0.4 and 0.6 atmospheres. When they are within the cylinder, they can breathe 100% oxygen. Their body receives oxygen at a pressure of 2 to 3 atmospheres (more than 10 times more than normal).
The principle of operation of a pressure chamber is simple. The body of the cell is sealed and when compressed gas (air, oxygen, or other mixture of gases) is injected into it, the pressure in the cell increases. The cell can be compressed to the desired pressure and then released in a controlled and slow manner the gas inside the cell until the pressure in it returns to 1 atmosphere, only then can the cell door be opened. The dogs feel no pain, it is a non-invasive type of treatment that is renowned to assist the healing process. To be able to offer this as a reinforcement of pre-existing treatment or additional route gives satisfaction and peace of mind to pet owners, whilst offering some benefits to your surgery also. Dog injuries are incredibly common, therefore HBOT is another avenue for vets to consider.
How does this assist dogs?
Dogs with a draining, infected open wound may suffer from pain and stagnancy of their recovery; meaning that regular treatment methods aren't working as effectively or as quickly. With the option of HBOT, it can offer dogs a better option to heal. Treatment via HBOT in a pressure chamber is now common in various factors, not only open or non-healing wounds but a plethora of other conditions. In parallel with the ongoing activities, studies in various fields have examined the extent of the effect of pressure cell therapy. When vets can expand their knowledge of therapeutic options in different and varied indications, it provides the company with better outlooks, more sales and footfall, and of course happier patients. It is a business decision that can be a boost for your surgery, as well as offer relevant staff members to be able to train in the technology of the HBOT and operate the machinery with ease and confidence. It places your veterinary surgery in the top categories for leading medical innovations and is a fantastic investment for veterinary clinics.
An investment for Veterinarians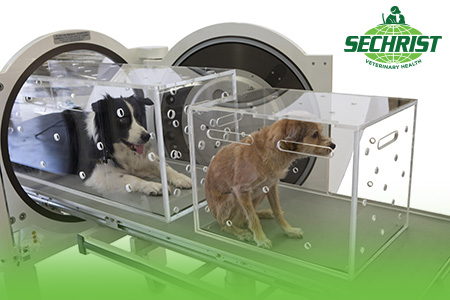 HBOT Investment for Veterinarians has plenty of benefits; it is known, from a recent Canadian study, that "long term medical costs for treatments of human patients with delayed healing foot ulcers associated with Diabetes Mellitus were lower when adjunctive HBOT was added to standard wound care therapies."
It is also known that veterinarians are expanding their referral base by offering HBOT. That is because this cutting-edge technology is not readily available in every veterinary surgery which puts you ahead of the competition. It expands your database and allows you to treat more animals and ultimately, help more animals with their healing process. The long-term costs of treatments for non-healing wounds can mount up and therefore, pet owners that can speed up the process, ultimately save money on the chronic issues of their pets. A Hyperbaric Animal Chamber works in various ways to assist with the following by numerous methods.
It aids in the healing of capillaries, and in the construction of new capillaries, especially in damaged tissues.
Encourages the formation of new bone tissue by overactivity of bone cell types.
Improves the effectiveness of white blood cells that fight infections.
Very effective in treating edema due to vascular pathology and after bruising.
Inflammation can be better managed alongside other treatments.
A modern technique with amazing results
HBOT Chamber Options for Veterinarians should be considered, and therefore having an expert team to advise you will prove beneficial. HBOT chambers must be used correctly, and therefore proper training is vital to ensure that all vets are well versed in the technology and how to use it to its best abilities. Veterinary Hyperbaric Oxygen Treatment Chambers are the future of treatment in animals for a multitude of ailments. However, in the case of septic, non-healing wounds, it can bring instant relief, and the results are seen as treatment progresses.
At sivethealth.com, an expert team is on hand to offer advice, implementation, and training so that your veterinary surgery can excel in this area of treatment. This safe and secure method has been shaking up the medical industry for years and the concentrated research has led to impeccable results. It can and does assist with healing wounds. For more information on how it can assist your business, please do not hesitate to get in touch with us today.