Hyperbaric chamber treatment has proven itself useful as a treatment used in helping ailing pets recover from both illness and injury. Hyperbaric chambers were initially used in human medicine, in the treatment of divers with decompression sickness ("the bends"), burns and trauma. However, they are now being used more and more as a treatment for pets and other animals. The treatment has been applied for a wide range of ailments, from injuries received through car accidents to rattlesnake bites, thermal burns and septic peritonitis. It is used for pets of different sizes, from small animals such as rabbits and ferrets to cats and dogs.
Interested in offering hyperbaric oxygen treatment at your veterinarian clinic?
Call: 850-510-2781
A veterinary hyperbaric chamber for sale provides an environment that uses pure oxygen and high pressure, which helps to promote healing. A higher concentration of oxygen in the bloodstream delivers more oxygen to damaged tissues, improving the wound's ability to heal. Although hyperbaric chambers have been used in human medicine for many years, it is only in the last few years that more research has been specifically conducted on its use in pets. However, one thing to note is that much of the research previously conducted to investigate the use of hyperbaric oxygen therapy on humans was carried out using small mammals such as rats and rabbits.
Veterinarians in the US have been making use of hyperbaric chambers for a number of years and, in 2016, Fitzpatrick Referrals (which was featured on TV show The Supervet) became the first veterinary clinic in the UK to begin using a hyperbaric chamber. Recent studies have been testing both the effect of hyperbaric oxygen therapy for pets and the safety of it, including any side effects that it might produce.
Sechrist offers a selection of case studies that demonstrate some of the possible uses of hyperbaric veterinary medicine for pets.
Some of the ways that the treatment has been used include but are not limited to: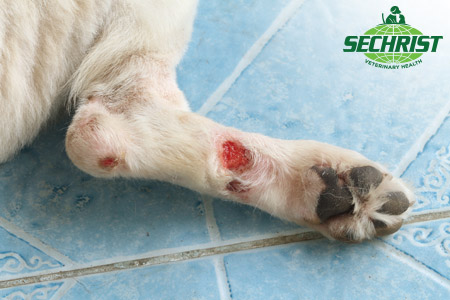 Hyperbaric treatment in humans has been in use for years and is regularly covered by insurance companies, who are reluctant to pay for anything that might be unproven. Uses in human medicine have included crush injuries and carbon monoxide poisoning, as well as a variety of other injuries and ailments.
Pet owners are also increasingly requesting hyperbaric oxygen therapy (HBOT) for their pets. Many pet owners are dedicated when it comes to finding the best treatment for their beloved pets, and will carry out their own independent research. Even if hyperbaric chamber treatment isn't suggested to them, they may read about it themselves and request treatment or a referral if they think that it could be an option for their pet. Pet owners are more informed than ever about treatment options for their pets, thanks to the internet, veterinary TV shows, and other media that helps them to independently learn about new treatments.
Sechrist has pet oxygen chambers for sale that offer a choice of sizes. The two chamber sizes we currently sell are, the SV250 and SV500, which are suitable for smaller and larger animals respectively, with the possibility of treating multiple patients simultaneously. We began as experts in human hyperbaric chambers more than 40 years ago and have taken our expertise into the veterinary space. Our industry experience has allowed us to design safe, easy to use equipment and to provide maintenance and servicing from our trained technicians. Our products are engineered to meet the needs of veterinarians and their patients and are used in clinical settings in more than 120 countries.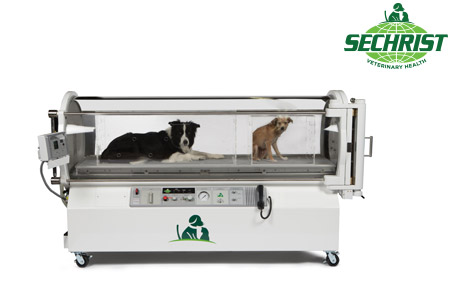 Many veterinary clinics explore their options for financing a hyperbaric chamber. Rather than buy them outright, they often finance the purchase by giving a cut of the cost of each treatment to the company that sells the chamber to them. This helps to make it more affordable and ensures the chamber is beneficial to the veterinary clinic and its patients and clients.
One of the most important things for veterinarians just starting out in hyperbarics is receiving the correct chamber training for themselves and their team. This is something that Sechrist can help with by offering a choice of training options. Sechrist provides online education that covers the fundamentals of veterinary hyperbaric oxygen therapy, which is provided before the installation of a new chamber. After installation, a half-day of in-service equipment training takes place, followed by a two-day hands-on training program to teach the safe operation of the chamber and key competencies. We also have on-site training in the application of HBOT, training in hyperbaric medicine in San Antonio, Texas, and multiple phase on-site training in hyperbaric medicine safety.
Safety is essential to consider when operating a hyperbaric chamber, which is why training in both safety and usage is necessary. Accidents are possible if the correct care isn't taken when using the chamber, which could lead to injuries to both pets and veterinary staff. Some experts believe that veterinarian hyperbaric treatment should be a last resort for pets, but others disagree. While it can be a useful treatment when there is no other alternative and other avenues have been exhausted, it isn't necessarily essential to try all other possible treatments first. Veterinarians can offer hyperbaric medicine for pets as a treatment when they predict that healing might be difficult.
There are many benefits of injury recovery with hyperbarics for pets. You can view our case studies to find out about how our chambers have been used to treat pets with a variety of ailments, including the story of Alex the Golden Retriever and how HBOT for pets helped to treat acute paresis in his pelvic limbs. The use of hyperbaric chamber treatment is helping pets of all shapes and sizes, offering a treatment option to address a wide range of injuries and illnesses. Our hyperbaric chambers are helping veterinarians to offer their patients another treatment option and stay up to date with advancements in veterinary medicine.