Veterinary Hyperbaric Oxygen Therapy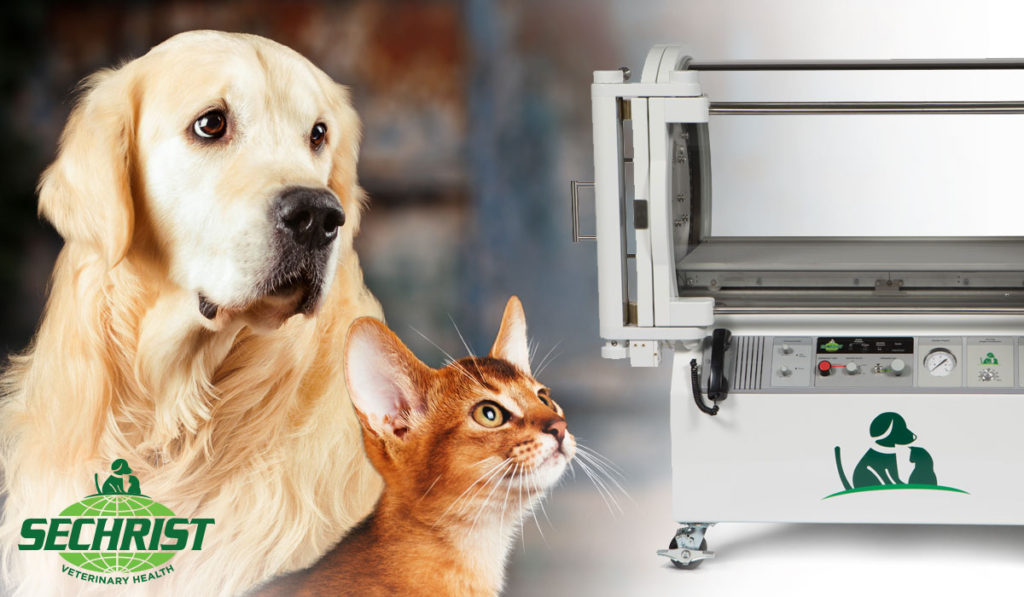 We understand that new technology can be exciting, but also overwhelming; especially when used in veterinary surgery. However, we also know that the latest technologies can make a massive difference to a veterinary clinic.. One of the most significant medical breakthroughs for animals in recent years has been HBOT for pets. With very little risk involved, Veterinarians can offer hyperbaric medicine to pets whose owners find treatment to be expensive or traumatic.
Interested in offering hyperbaric oxygen treatment at your veterinarian clinic?
Call: 850-510-2781
What Are The Benefits Of Hyperbaric Oxygen Therapy For Pets?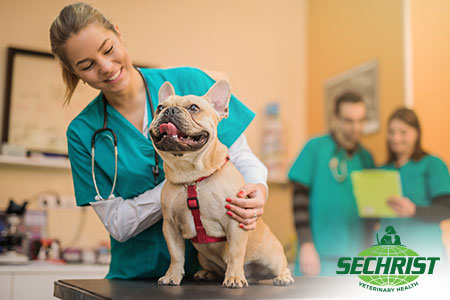 Hyperbaric oxygen therapy or HBOT, has quite a few benefits. Including enhanced wound healing and providing significant improvements to infection control. It also helps the number of growing medical issues to remain low at all times. Some of the benefits include:
Increases & Improves The Supply Of Oxygen To Infected Tissue
Increasing the supply of oxygen in the bloodstream improves upon a wounds ability to heal. With the right chamber pressurization,, an animal receives an increased amount of oxygen to a wounds surrounding tissue. treating the wound quicker.
Treats Many Conditions
One of the great things about a hyperbaric oxygen chamber is its ability to treat a wide variety of conditions; it's ability to heal goes far beyond wounds. The increase of oxygen also helps treat peripheral neuropathies, pancreatitis, snake bites, and other inflammatory diseases.
An Affordable Option
Veterinarian hyperbaric treatment can be quick and painless for pets, but the biggest surprise is it's affordability. . Compared to conventional medicinal approaches, HBOT is inexpensive and straightforward. Pets are covered with a blanket and placed in a pressurized container,with no more cost than that of laser treatments or acupuncture.
What Is Oxygen Therapy For Pets?
Oxygen therapy for pets involves keeping an animal in a pressurized environment with increased oxygen levels. When the animal is placed in the veterinary hyperbaric chamber, the atmospheric composition can easily be increased – normal oxygenation levels are around 20%, but the chamber is capable of reaching up to 100%. Even though HBOT is still being extensively researched, veterinarians are finding a variety of different uses for the chamber; including the treatment of ailments not thought to be treatable by HBOT. ..
Why Is Hyperbaric Oxygen Therapy So Powerful?
For one; HBOT has an anti-inflammatory effect. Meaning a high oxygen environment upregulates the genes that fight inflammation and downregulates those that create it. When the inflammation decreases , there is less swelling and more healing.
Secondly, there has been evidence of increased blood flow to the affected tissue. When the blood is more oxygenated, the wounds heal faster. It also prevents the blood flow from being cut off, and with better oxygenation to the blood, particles can diffuse to affected tissues.
What Are My Options For Hyperbaric Animal Chambers?
There are several product options on the market today, and we want to help you make an informed decision about which one may be best for your veterinary practice.
This chamber has dual-use capability. It may be used as either a hyperbaric oxygen chamber or an ICU chamber. Some of its features include: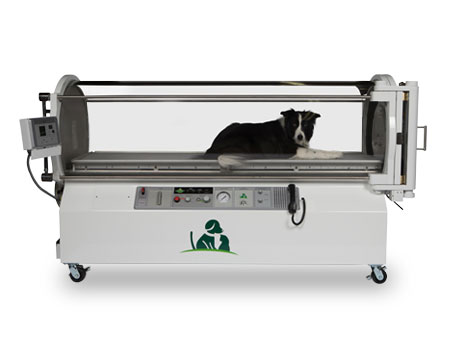 Class C Chamber engineered to meet patient needs
A unique dual mode is offering enhanced oxygen at ambient pressure while also delivering hyperbaric oxygen therapy.
Spacious acrylic cylinder – easily view and calm patients
Secure intercom system to communicate with patients
Custom ports and pass-throughs for IV use and patient monitoring
Door interlock device for one-handed use
Electric scissor lift for easy patient loading.
Sechrist Proprietary Air Compressor System And CGA Grade E Breathing Air Panel
This is an optional system that comes with a storage tank and dial oil-free compressors. It continuously delivers air to support the ICU chamber, t which most competitors do not offer. Other features include:
Compact design for space saving
Filter elements that can be replaced easily
Precise Air and O2 delivery through the chamber
Digital carbon monoxide monitor
Although the SV250 is our smallest chamber available, it still provides dual use as both a hyperbaric oxygen chamber and an ICU chamber. Additional features include: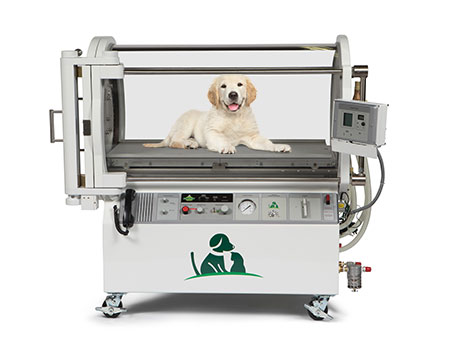 Removable stretcher with a static dissipative mat
40″ and 20″ patient modules can be inserted into the chamber for putting more than one patient at a time.
Convenient intercom system to communicate and calm patients
Acrylic cylinder for easy access viewing to calm the animal.
One-handed door interlock device
Each of these products has been built to the highest of standards, ensuring the safety of the patients it treats. Comparing different HBOT chambers can be overwhelming, but we want to make the process easier. By providing all the necessary information we hope we're able to assist in helping you make a well informed decision on which chamber would best fit your practice. With HBOT you'll be able to expand your practice's treatment options offering pet owners a range of alternatives.
Contact Us Today
For more information on our products listed above – or others on the market – please visit our product page or contact one of our friendly team members. We can help you through the process of deciding which hyperbaric oxygen chamber is best for you.