Cat Oxygen Chambers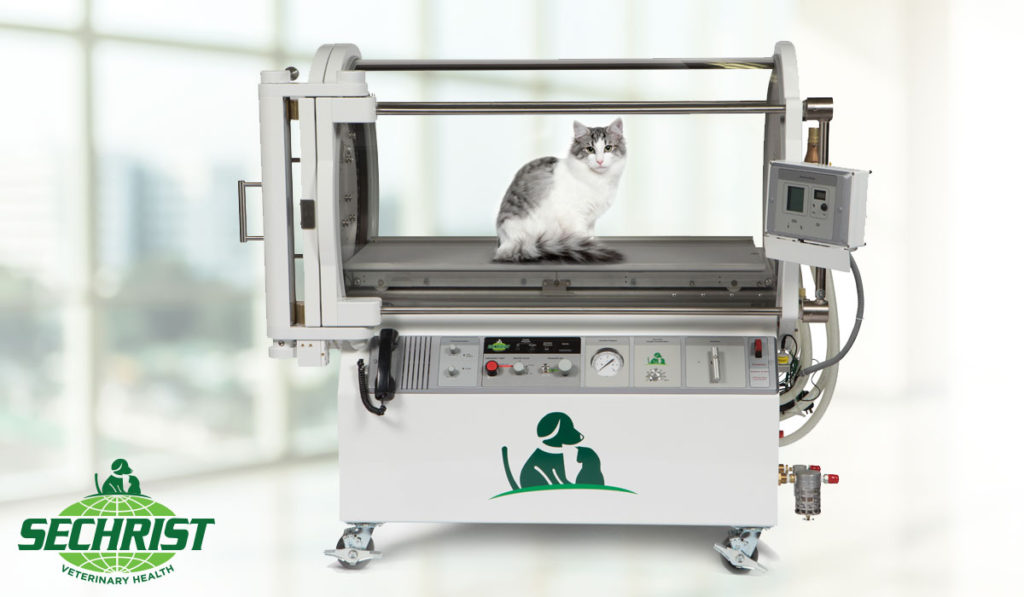 Dogs and cats are a big part of the family in many homes. When they get sick or hurt, we want to do everything we can to get them healthy again. One of the best ways to do this, is to get oxygenated blood to the affected area as quickly as possible. How is this done? By a proven method called Hyperbaric Oxygen therapy. Click here for veterinary hyperbaric chambers for sale.
It begins in a Hyperbaric Oxygen Therapy Chamber where pure oxygen is pumped in at the right temperature while exceeding standard atmospheric pressure. This boosts the oxygen molecules the blood carries, helping to fight infections and heal wounds by restoring their blood gases to normal levels.
Veterinarians and clinical staff are trained to ensure your pet is comfortable and closely monitored during their therapy. Each animal can be watched closely to make sure they are comfortable during their time spent in the chamber. The chamber is constructed with state-of-the-art acrylic material which allows the animal to see out and the veterinarian and staff to see in. What are some of the added benefits of this therapy?
What Is Oxygen Therapy For Pets?
A high oxygen environment is five times higher than the normal 20% oxygen limit that moves within the blood. This pressure delivers a higher concentration of oxygen which promotes healing much faster.
What Are The Benefits Of Hyperbaric Oxygen Therapy For Pets?
It's Relaxing
Many medical procedures for animals can be frightening, but hyperbaric chambers for pets allows them to relax in which they can heal in a calm environment. They won't feel caged because they can see through the top and sides of the acrylic chamber.
They Promote Faster Healing
Hyperbaric pet oxygen chambers speedup the healing process. The amount of oxygen that runs through the body of the animal is increased, which helps to deliver nutrients that are vital to cell reparation. Extra oxygen can help stem cells that improve the healing process, to move faster.
Rapid Carbon Monoxide Removal
Did you know animals can suffer carbon monoxide poisoning in the same way a human can? It's essential to quickly unbind the CO molecule from red blood cells when carbon monoxide poisoning occurs. This improves rapidly in a hyperbaric oxygen chamber.
Why Are Cat Oxygen Chambers So Powerful?
Two explanations for the effectiveness of cat oxygen chambers are as follows:
Anti-Inflammatory Effects

A high oxygen environment can upregulate the genes that help fight inflammation, while at the same time down-regulating those that create it in the first place. With less inflammation, there is less swelling.
Increased Blood Flow
Affected tissue needs to heal, and this is accomplished with the right oxygenation in the blood. When there is evidence of increased blood flow to the tissue, the wound heals faster. All of this works to prevent the blood flow being cut off, and particles can diffuse easier to the affected tissue.
What Are The Product Options For Me?
Sechrist Proprietary Air Compressor System And CGA Grade E Breathing Air Panel
This is a chamber with an optional air compressor system, that comes with a storage tank and dial oil-free compressors. It can deliver air continuously to support the ICU chamber which most competitors do not offer. This can be paired with the CGA breathing panel Grade E, which is wall mounted to allow the user the delivery of filtered breathing air to be controlled. Some of the features include:
Space saving compact design
Filter parts that can be replaced easily
Precise Air and O2 delivery through the chamber
Digital carbon monoxide monitor
Model SV250 Sechrist Hyperbaric Veterinary Chamber With ICU Chamber Functionality
Class C Chamber engineered explicitly for the needs of your patients; this is an HBOT for pets that provides dual use as both a hyperbaric oxygen chamber and an ICU chamber. This has been designed and manufactured in California by our company with over 45 years of experience. Some of the features include: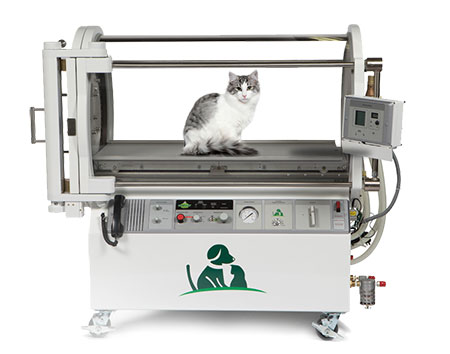 Class C chamber which has been engineered to the needs of veterinarians and their patients.
Dual mode delivers oxygen therapy and enhanced oxygen at the right pressure
Removable stretcher with a static dissipative mat
40″ and 20″ patient modules can be inserted into the chamber for loading more than one patient at a time.
Convenient intercom system to communicate and calm patients
Acrylic cylinder for easy access viewing to calm the animal.
One-handed door interlock device
Both of these products come highly recommended to veterinarians, and if you are serious about offering hyperbaric treatment for pets, then you need to ensure that you have the best options for your veterinary clinic. If you have the opportunity to provide better, more affordable care for your patients and their owners, then you should take that chance where you can. Not only will an HBOT for pets improve your reputation for your district, but you'll also be offering the animals the best possible chance at survival.
Contact Us Today