SECHRIST PROPRIETARY AIR COMPRESSOR SYSTEM AND CGA GRADE E BREATHING AIR PANEL
The chamber can include an optional air compressor system with dual oil free compressors and storage tank. The system has the capability to continuously deliver air at 50 to 70 psig to support the ICU Chamber functionality, a unique feature that the competitors don't offer. You can also pair it with our CGA Grade E Breathing Panel, which is a convenient wall mounted panel to allow the user to control the delivery of filtered breathing air to the chamber.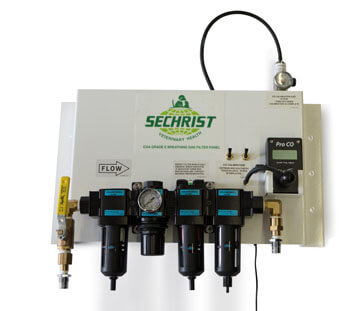 Unique Features:
Precise Delivery of Air and O2 to chamber.
Space Saving Wall Mounted CGA Grade E Breathing Air Panel to precisely control the O2 and Air Flow to the chamber.
Digital Carbon Monoxide Monitor with readouts of CO levels.
Easily replaceable Filter Elements. with static dissipative mat.
Compact design to save space.
AIR COMPRESSOR DETAILS