Offer Hyperbaric Oxygen Therapy at your Veterinary Clinic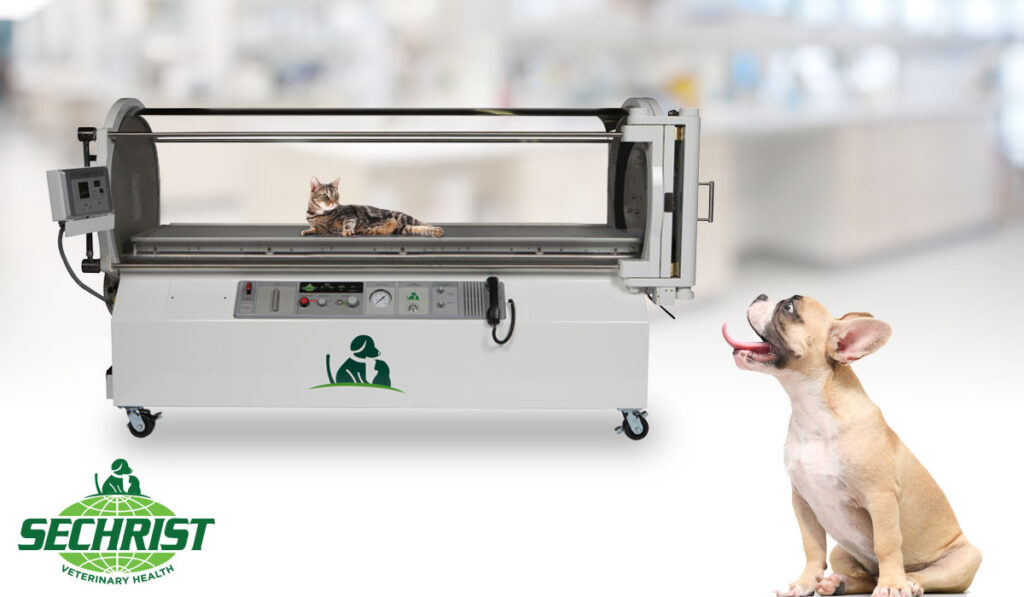 When it comes to offering a modern solution to the modern problems a pet owner can bring, Hyperbaric medicine is a form of veterinary care that you need to get interested in. It's a very popular form of modern care for both humans and pets, and in recent years, the technology for such a care option has been developed tenfold. If you're a veterinary practice that wants to reach out to a supplier for the right Hyperbaric Oxygen Therapy Chamber for your practice, here's what you need to know.
Interested in offering hyperbaric oxygen therapy at your veterinarian clinic?
Call: 850-510-2781
Hyperbaric Medicine for Pets
Many animals can benefit from Hyperbaric medicine for pets, thanks to the invention of chambers to suit even the biggest of companion animals. A patient is placed within the chamber, and for a short or defined period of time, they respire 100% oxygen. Because of this, convenient and beneficial elements such as rapid healing can be introduced to the recovery period.
There are plenty of FDA approved applications of HBOT; it's the most popular form of care currently on the market concerning Hyperbaric chambers, and the use of such technology has long been in the service of humans and pets. Anything from tooth rotting to gas poisoning can be treated using oxygen therapy, and with a chamber to allow the pet to slip into and sit in, it's a rather non invasive way to ensure a pet has the best chance to recover and live a healthy life.
Most commonly, for any pet suffering with delayed wound healing, tissue inflammation and/or trauma, and even down to things such as snake and other animal bites, Hyperbaric Oxygen Therapy for veterinarians can be a great way to keep your hospital moving, and draw plenty of interest from the public at the same time.
Offer Veterinary Hyperbaric Oxygen Therapy at Your Clinic
It's been long known that veterinarians will expand their referral Base with HBOT, thanks to its overreaching benefits, and just how easily it can be explained to an owner bringing in a patient for urgent or scheduled care. If you seek to increase your business, offering an advanced service like this will ensure more and more people come to your practice, rather than any competitors in your area.
Owners on your patient list will see just how beneficial Hyperbaric Oxygen Therapy is even from a single session. With conventional oxygen delivery, pets can be uncomfortable and in great distress for a long period of time. But, if you offer holistic Hyperbaric Oxygen Treatment for pets, your patients will be kept much calmer, and much more comfortable. Simply allowing them to climb into a Hyperbaric chamber, and then shutting them in and increasing the oxygen pressure, ensures they do not need to be anaesthetised, and can see their owners at all times.
It's important to be aware of the hows and how much, when it comes to offering HBOT to your patients. Indeed, veterinarians will need to be trained in order to use the machines that we have on offer, but this is the standard amongst veterinary circles. Using a Hyperbaric chamber is a very advanced form of treatment, after all, and for smaller veterinary operations, the cost in introducing such care to their practice simply might not be in the budget.
What We Offer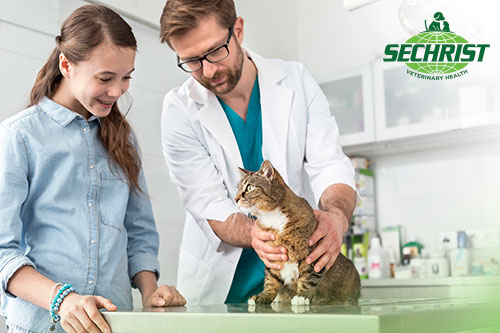 When it comes to HBOT investment for veterinarians, you need to know you're spending wisely. You've got a practice to run, you've got treatment to offer, and you can't do that if most of your capital is going down the drain investing in the wrong equipment.
So, we know you want to find the right product for your practice. We know you want your HBOT chambers to be cost effective, with the right features, and a general application for the patients on your list.
If you want to be sure there's serious safety standards on offer here as well, look no further. With over 40 years of experience in designing, building and manufacturing Hyperbaric chambers, the Sechrist team knows what it takes to build the right chamber for your veterinary practice.
We have the factors you're in need of. In our products section, we stock 2 very unique and incredibly useful Hyperbaric Veterinary Chambers:
Model sv250 Sechrist Hyperbaric Veterinary Chamber
This model of hyperbaric chamber has a lot of features to it. One of the most notable is the fact that it's a Class C chamber, meaning this model has been specifically engineered to meet your needs as a veterinarian, and the needs of the patient you're currently screening.
The model also comes with an intercom system, designed to ensure the utmost convenience for both the vet in control and the patient in the chamber. Communication can be passed back and forth at any time using such a system, ensuring it's easy to get to grips with.
Similarly, this chamber comes complete with a dual mode that's unique to the product. You can deliver both Hyperbaric Oxygen Therapy, as well as enhanced oxygen, to any patient currently using the chamber.
Model sv500 Sechrist Hyperbaric Veterinary Chamber
This model is also a Class C chamber, with specialised engineering to suit both the veterinarian in charge, and the patient they're seeing to. Once again, this chamber comes with a unique dual mode, to allow for HBOT and the supplemental use of enhanced oxygen at the same time.
The design is very operator friendly, and for anyone recently trained in the use of Hyperbaric medicine, the sv500 will give you no problem in adjusting to. Plus, thanks to a very convenient intercom system, patients can be communicated with at any and all times.
However, one of the ways it beats out the previous sv250 model is the fact that it can load large companion animals. For any veterinarian with a long list of large dog breeds as patients, this model could be a very worthy upgrade.
If you're in need of any other information about the two products mentioned above, click through to find the product pages for each.