Enhancing Post Surgical Treatment and Care with HBOT for Cats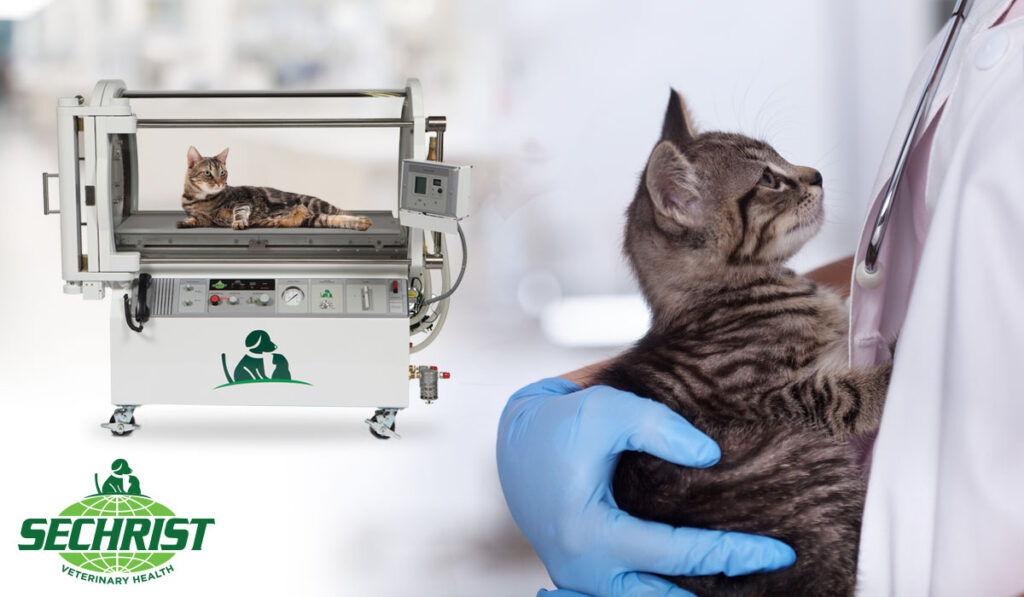 Hyperbaric oxygen treatment (or HBOT) has proven effective in a wide range of fields for cats. It has been shown to help improve recovery with issues like thermal burns, snake bites, and feline polyradiculoneuritis. However, alongside being a supplementary treatment for all of these issues, it has also been found to be highly effective at speeding recovery for cats that have gone through surgery.
Interested in offering hyperbaric oxygen therapy at your veterinarian clinic?
Call: 850-510-2781
Here, we're going to take a closer look at what HBOT is, how it can be used in a veterinary practice and the benefits a cat oxygen chamber has to offer when it comes to enhancing post-surgical treatment and care.
What is oxygen therapy for cats?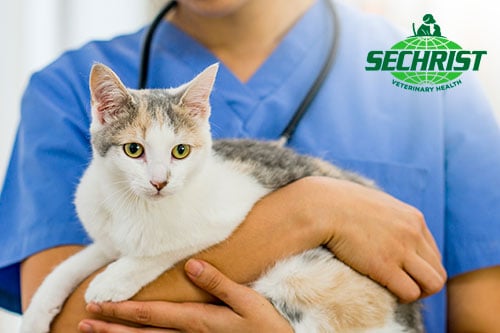 Oxygen therapy, or HBOT, is an incredibly effective method of treatment that involves the use of a hyperbaric oxygen chamber. These chambers create an atmosphere of pressurized air once the patient has been put inside. The patient then breathes in 100% of oxygen, which increases the supply of oxygen through the bloodstream.
The effects of oxygen for cats can include help in a wide variety of different conditions, but it is most notable for its ability to help with delayed or paused recovery, including helping a feline patient recover more quickly from surgery.
How an oxygen chamber for cats can help
There is a range of benefits to consider when thinking about choosing cat oxygen chambers as a means of helping with post-surgical treatment and care. Here are some of the benefits that a cat on oxygen may be able to expect:
Oxygen Gets Better Delivered To The Healing Area
Areas that have experienced wounds and trauma, including areas that have had surgery performed on them, can experience reduced blood flow alongside swelling. Oxygen therapy for cats exposes the patients to 100% levels of oxygen, which then allows the oxygen to travel more quickly through the bloodstream, reaching the affected area to improve healing.
Quicker Healing For The Patient
The increased supply of oxygen can lead to the increased release of growth factors and stem cells inside the patient. This is largely due to the fact that the increased oxygen supply allows the bloodstream to better deliver vital nutrients to the affected cells throughout the patient's body.
Improve Anti-Inflammatory Response
The higher pressures of HBOT provide an effect on the genome to positive effect. When exposed to the higher pressures inside the chamber, animal tissue can undergo changes to the genome, including down-regulating the expression of inflammatory genes. This can reduce inflammation and swelling for animals in recovery, improving their comfort.
All of the above benefits can serve as good reasons to implement a cat oxygen chamber in your veterinarian practice, allowing for faster and safer recovery from surgical operations for feline patients.
Other Benefits of an Oxygen Chamber for Cats
While cat oxygen therapy can be particularly useful in helping post-surgical care, especially with difficult or delayed recoveries, it can also benefit your veterinary practice in a range of other ways, as well. Here, we're looking at why oxygen for cats can benefit your practice and your patients further still:
Useful in a Range Of Conditions
The healing benefits of improved oxygen supply has seen HBOT become a lot more popular in clinical use due to its ability to aid in the treatment of a range of conditions. HBOT has shown evidence of being help with all manner of issues, including the following conditions: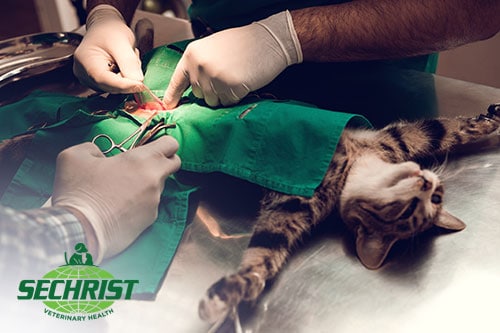 Feline Polyradiculoneuritis
Vasculitis
Snake Bits
Canine Pancreatitis
Intramuscular Chemotherapy
Septic Peritonitis
Severe Degloving Wounds
Tooth Root Abscess
Acute Necrotizing Dermatitis
Delayed Wound Healing
Severe Tissue Trauma
Sciatic Nerve Lesion
Traumatic Sacral-Coccygeal
Adjunctive HBOT has also proven effective in treating Ischemia
Thermal Burns
To that end, HBOT chambers for cats can serve as one of the most versatile tools of treatment in your entire practice, making them an investment worth looking more closely at. Click here for veterinary hyperbaric chambers for sale
Oxygen Therapy for Cats is Cost-effective
Aside from being an effective means of improving the quality and increasing the rapidness of recovery and treatment, HBOT is also widely affordable compared to other treatment methods. Relatively inexpensive and easy-to-use, hyperbaric oxygen therapy chambers require little more than placing an animal in the chamber, in a blanket, and allowing them to recover inside.
A Therapeutic Option For The Patients
Cat oxygen chambers allow pets to recover in a relaxing and peaceful environment, with many of them behaving very well and even enjoying the treatment. The clear acrylic cylinder and clear modules in our HBOT chambers allow for easy monitoring. As such, the patient can better see their environment and both the vet treating them and the pet owner can communicate with them to help keep them at ease in the chamber.
It's Growing More Popular Among Patients
Many veterinary practices that have started to use HBOT chambers for pets have spoken about not only the benefits to their patients, but also those to their practice. It's a form of treatment that's growing more popular, meaning that more patients are willing to find and stay with a vet that can offer oxygen for cats and other animals.
Capable Of Treating More Than Cats
Of course, while this article may focus on the benefits of putting a cat on oxygen, especially in the case of enhancing post-surgical treatment & care, HBOT is not solely for cats. So long as a patient can fit inside the chamber, it can assist all kinds.
Increase your veterinary clinic referral base by offering HBOT for pets
Sechrist Veterinary Health has a range of HBOT chambers on offer and will be happy to help you select the one that best fits the needs of your practice and your patients. We have helped many customers successfully implement HBOT chambers into their practices. This includes full training for the successful use of HBOT chambers, online educational resources to supplement that, full maintenance and repair services, and even financing options to make the treatment more affordable. Get in touch for more information about our HBOT chambers and how we can help you use them in your practice.