Purchase Hyperbaric Oxygen Chamber Installation and Training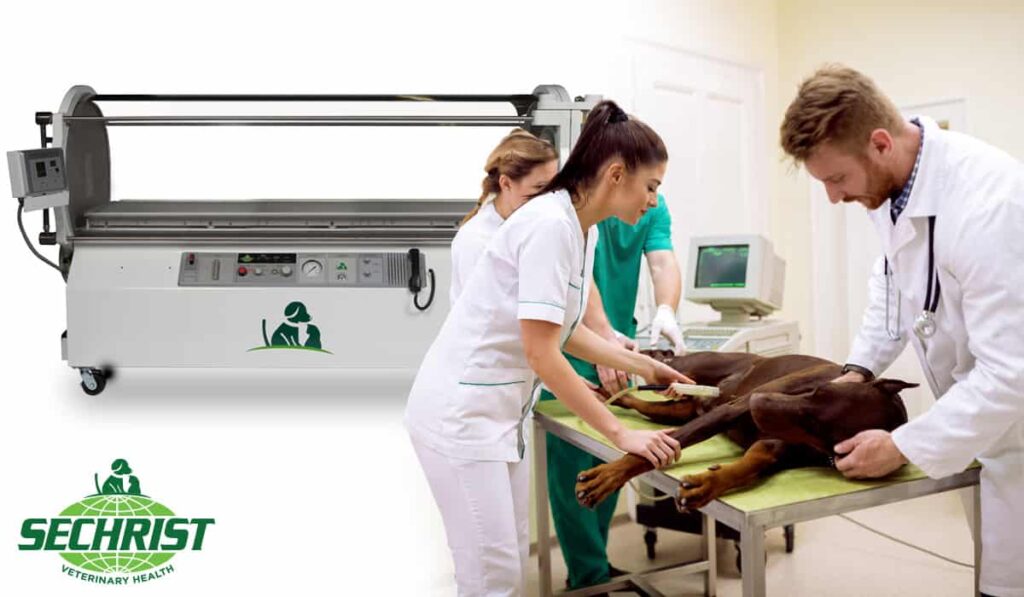 If you are looking for a hyperbaric oxygen chamber for your veterinary clinic, you can count on Sechrist Veterinary Health to provide you with the reliable and revolutionary equipment you have been searching for. We have been designing and manufacturing Hyperbaric Chambers made in the USA since 1973, so you can be sure that you can rely on us for premium equipment at great prices. Below, we will tell you more about hyperbaric oxygen chambers and their benefits. Should you wish to place an order or if you have any queries, we are a phone call away.
Interested in offering hyperbaric oxygen treatment at your veterinarian clinic?
Call: 850-510-2781
What is hyperbaric oxygen therapy?
Before we take a look at the many benefits associated with using a hyperbaric oxygen chamber, it is imperative to explain what this therapy is. Hyperbaric oxygen therapy has taken on a role that is continuously growing in modern medical clinics of today, not only for pets but for humans as well. There are numerous benefits of hyperbaric oxygen therapy for both patients and veterinarians when it comes to veterinary medicine. It involves oxygen being systemically delivered at values between 1.5 and three times greater than atmospheric pressure. The patient will be placed inside of the treatment chamber where they will breathe almost 100 percent oxygen while being exposed to ambient, elevated pressures.
Training and installation provided as well as our hyperbaric oxygen chambers, ensuring effective use
At Sechrist Veterinary Health, we design and manufacture leading hyperbaric oxygen chambers so that you can enhance the care that you offer at your veterinary clinic. Not only do we provide you with the equipment you need, but we will install the hyperbaric oxygen chamber and we will ensure that your team receives the required training so that you can operate it correctly. This is not something that you will receive when purchasing from other suppliers, yet we want to make sure that you are able to make the most from your chamber so that you and your patients can benefit fully.
Hyperbaric chamber benefits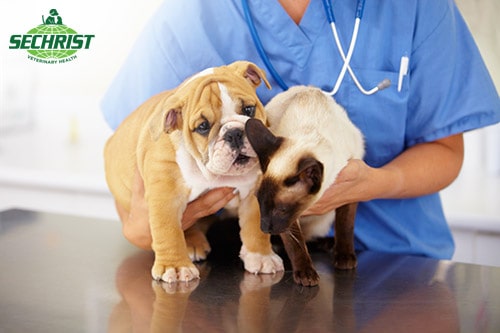 Now that you know what this sort of equipment is and why we are a great choice when looking for veterinary hyperbaric chamber for sale, let's take a look at why this is something you should be interested in. What are the benefits associated with hyperbaric chambers for pets?
Faster healing is promoted – One of the main benefits associated with hyperbaric oxygen chambers is that they promote quicker healing. As more oxygen is delivered to the tissues within the wound, this helps the animal to heal quicker. The animal's body has the ability to reduce the inflammation and swelling of wounds, increase new tissue growth, and fight off infections at a quicker rate too.
Offers treatment where others may fail – Many vets have found that hyperbaric oxygen chambers have been beneficial when other treatments they have tried have not worked. If you have been trying a course of treatment with a pet and it has not gone the way you had hoped, hyperbaric medicine may be a great alternative. This means that there is another avenue to try in cases that may seem hopeless. Plus, using a hyperbaric oxygen chamber can help you to reduce costs and make treatment less time-consuming and complicated, which are benefits that all veterinary clinics can make the most of.
Suitable for pets of all sizes – Another reason why you should consider investing in a hyperbaric oxygen chamber at your veterinary clinic is that this piece of equipment is suitable for all pets. It can be used to treat dogs, cats, horses, goats, and much more. While hyperbaric oxygen chambers are most commonly used on dogs and cats, we have seen many vets use these chambers to treat very small animals as well. Plus, unconventional pets can be treated and we have also seen more than one pet being treated in the chamber at the same time. This sort of versatility is great for any veterinary clinic, helping more patients to be treated and delivering you great value for money.
Perfect for a wide selection of ailments – A final benefit that we should consider when it comes to hyperbaric oxygen chambers is that they are suitable for various assortment of injuries and ailments. Some of the case studies that you can find on our website include positive outcomes for severe tissue trauma, canine pancreatitis, rattlesnake bites, and vasculitis. There have also been many studies that have been conducted regarding the effectiveness of hyperbaric oxygen chambers, so we are sure that this will give you peace of mind. If you are unsure about the effectiveness of hyperbaric oxygen chambers in regards to certain illnesses or conditions, please give us a call and we would be happy to discuss this with you further.
Contact us for more information
If you would like to find out more about our services, please do not hesitate to get in touch with us today. There are several ways that you can reach us. You can send an email to [email protected], and we will get back to you as quickly as we can. Alternatively, you can give us a call on (888) 748 3801 and you will speak to one of our friendly advisors who will answer all of your queries and concerns.