HBOT for Treating Cardiogenic and Non-cardiogenic Pulmonary Edema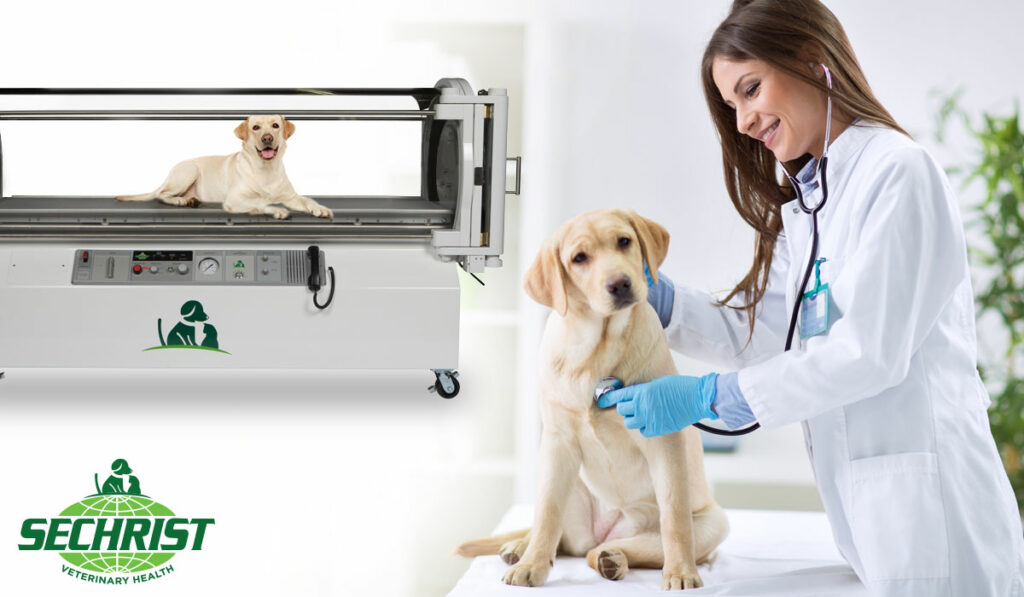 Pulmonary edema is a condition where the lungs fill up with fluid. The debilitating abnormal fluid collects in numerous sacs in the lungs and causes the patient to suffer from shortness of breath. As the tissues in the lungs continue to fill up, it means that less and less oxygen can be absorbed into the bloodstream. The eventual outcome of this that all the vital organs begin to shut down. If left untreated, pulmonary edema is life-threatening.
Interested in offering hyperbaric oxygen treatment at your veterinarian clinic?
Call: 850-510-2781
There are several different causes of this pulmonary edema, but the illness is divided into two main categories. The first is where a pre-existing heart condition causes the illness. This is known as cardiogenic pulmonary edema. The heart conditions which can lead to pulmonary edema include coronary artery disease, chronic valve disease, hypertrophic cardiomyopathy in cats, and dilated cardiomyopathy in dogs. The second type is non-cardiogenic pulmonary edema. Therefore an underlying heart condition does not cause it. Causes of non-cardiogenic edema include cancer in the lungs, a drowning episode, some kind of trauma, i.e. strangulation or head trauma, electrocution, seizures, and acute lung injury.
Current/old technology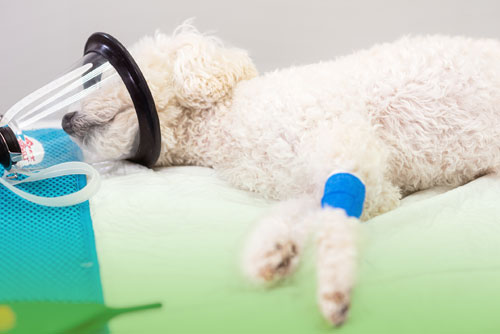 In the majority of cases, the technology that most veterinary's still have is simply not good enough for all your customer needs. Aging technology such as the oxygen masks, for example, are just simply not up to the job of injecting oxygen back into the blood of your patients. Oxygen masks have a low flow of oxygen and a slow increase of oxygen tension. This is it's only purpose, and it does not perform the job it is designed for with any sort of efficiency. They also have the affliction of having an unacceptable level of CO2 build-up within them. In addition, heat and humidity tend to build up too, meaning they become quite uncomfortable for the customer's pets. Other old technology, such as nasal catheters, can't stop the animal from breathing through their mouths, so how much benefit are they actually receiving from the catheter? There is also flow by oxygen, masks, e-collar with a plastic wrap, all of which are inept at delivering your patients the required oxygen they desperately need.
Hyperbaric Assisted Oxygen Resuscitation or Hyperbaric oxygen therapy (HBOT)
Right now, let's talk about the solution to your oxygen problems. Our hyperbaric chamber for pets are much quicker and far more efficient at getting that much-needed oxygen to your patient's vital tissues. So when they come in showing signs of pulmonary edema you will be able to put them into a hyperbaric oxygen unit and immediately relieve them. We have a medium-sized unit dual-purpose hyperbaric free-flow oxygen machine. And, we have a large-sized unit which is large enough to hold Great Danes, which may be suffering from something like dilated cardiomyopathy. They are both dual-purpose because they can perform as hyperbaric oxygen therapy units and a free flow ICU oxygen units. With our machines, you can monitor the oxygen concentration, temperature, humidity, CO2 levels in the units, and you are able to control these things by using the flow rate switch. Under hyperbaric therapy pressure, a lot more oxygen can dissolve in the plasma of the blood, and this happens far quicker. Thus more oxygen gets to the heart of your patient and all the other organs before they shut down. Hyperbaric chambers are able to give your patients over 1000mm more oxygen over the aging style oxygen cages. This is a vital and immediate relief to your patients who may be suffering significantly with acute pulmonary edema.
Veterinarian investment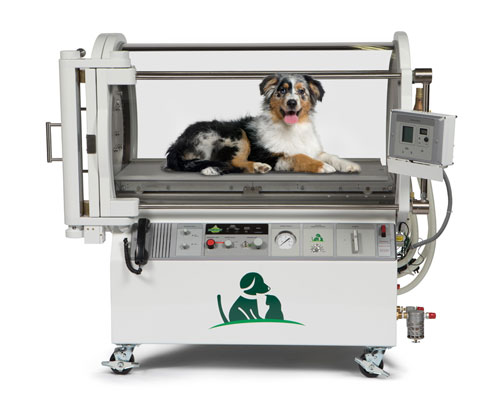 Purchasing a veterinary hyperbaric oxygen therapy unit for your veterinary surgery is a no brainer. Oxygen is such an important element. The fact is that not only do your customers need it to breathe and stay alive when they come in with illnesses such as pulmonary edema, but it is also a hugely vital element in terms of healing wounds. So, when your patients come in suffering from a horrible shortness of breath episode, you need to be able to offer the HBOT. Not only will you be helping your patient to breathe again, but you will also be speeding up the healing process of the original injury or condition. HBOT can help veterinarians treat a vast range of conditions with relative ease and efficiency.
Unfortunately, HBOT is not being employed by all veterinarians yet, and if you are one of them, it could mean that your veterinary is losing customers. That is because more and more people are becoming aware of hyperbaric technology. Once people know about new technology, they will want their pet to be healed inside a hyperbaric oxygen chamber. No one who really loves and cares about their pet will want it to suffer unnecessarily. No one wants some outdated technology. All they may need to do is go a little further down the road and use some other veterinary who has already upgraded to the latest state-of-the-art technology. At Secrist we want the best for you and your patients. We are specialists in offering pet oxygen chambers and want you to benefit from the new technology. If you can provide a hyperbaric chamber for your patients, you will find you can treat more pets more quickly, which will in turn increase revenue.
How HBOT investment will expand veterinarians referral base
It seems pretty obvious, but if you can offer the best technology and get that precious pet suffering from acute pulmonary edema breathing in two minutes, the good news will travel fast. There is no doubt that offering HBOT for pets will expand your veterinarian referrals. HBOT is still a relatively new technology, so it is in your best interest to be the first in your area to offer it to patients. People will come to you. However, it is gaining popularity, so be quick. We have veterinary hyperbaric chambers for sale, so give us a call, and we can help you expand your business. It may not be the cheapest thing, but the investment will be the best thing you could do to heal all those loved pets in your town.